The traditional gathering this Thanksgiving is one kind of a party that has to have it all: food, friends, and fun.
If you are the host then try to wow they with our unique food , drink ideas, and bountiful fall-themed decorations with a warm and welcoming harvest feel.
Don't know how?
Well don't worry because here we have some interesting ideas :
1. A cornucopia of mini cocktails
Mini martini glasses, wine glasses, and shooters on silver trays look elegant and let everyone quench their thirst and try new flavors.
Time for tasting!
2.A bountiful Thanksgiving buffet
For your feast, you must give each dish a chance to shine next to the turkey. Fall-themed chargers, harvest-hued bowls, and embossed platters make the dishes look delicious.
You can also set a sparkling atmosphere with a Thanksgiving garland intertwined with string lights above the fall decor of glittery pumpkins and faux bouquets.
3.Energize autumn hues with a burst of green!
First, put neutral-colored table cover, then make a single connected placement from green chevron tissue paper to flow from one end of the table to the other.
Pop the pattern with layering a patterned paper plate on a clear charged with coordinating solid-colored cups and napkins. A mini faux pumpkin makes an excellent place-card holder and don't forget t write the name of the guest you're thankful for!
4. Cap it off with Irish coffee
Finish off the festivities with a warm dessert drink and don't forget to serve it on a pretty tray.
It's easy to make,just blend fresh coffee and a shot of Irish whiskey and top with a generous dollop of whipped cream.
For the kids put a tray of hot chocolate or mulled cider .
Use Thanksgiving-pattern beverage napkins!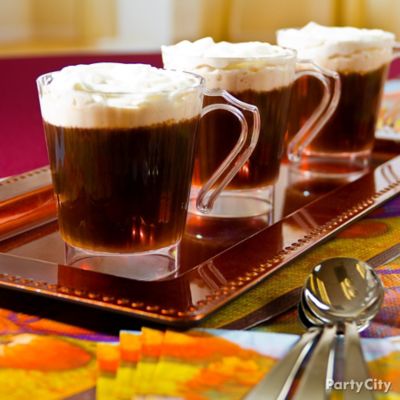 Thanks for reading …