Everyone loves Thanksgiving especially our children.Here we have some ideas that will inspire the teachers and give them some ideas to do some creative Thanksgiving crafts.
Ahh… don't you love the crisp air and colors of autumn?
Teachers let's begin:
1.Give the classroom a colonial makeover
Combine harvest hues with historical characters for a first-feast feel!
Decorations of pumpkins and pilgrims on the wall and matching cutouts on the chairs are great . Do the decoration with lanterns, centerpieces, and signs featuring everyone's favorite feathered friend.
2. Link their thankful thoughts together
Kids love this DIY  craft because  it's fun and easy!
Fill a pumpkin basket with crayons and "feathers" made of construction paper. Each child gets  a handful of paper feathers to write down to whom and for what is thankful. At the end gather together all of their thanks notes  and add them to one turkey tail to decorate the classroom with.
3.Tip your hat to this adorable favor idea!
You need:
– paper cups,
-dessert plates,
– streamers,
-stickers and
– glitter glue
to make these easy-peasy pilgrim hats.
How to do it:
– Cut the bottom out of a paper cup,
-glue the cup upside down onto a dessert plate
-trim the edges to make the hat "brim"
-have kids decorate with foam stickers
-draw a gold glitter stripe around the cup
– attach a crepe streamer "buckle" to the front
-bring the cups pre-made brimming with favors or let the kids have some DIY fun.
Kids must be involved in the process of making especially in the  filling of the  cups with cute turkey trinkets.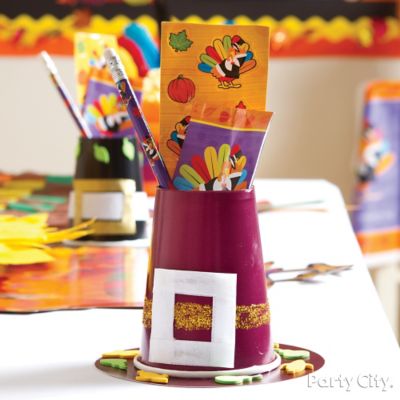 4.Let like pilgrims get crafty with pumpkins
The kids love DIY pumpkin "acorns"!
How to do it:
-set out mini pumpkins,
-glue,
-cups of paper "petals" cut from patterned
-solid-colored paper napkins and tissue paper
-have the kids glue layers of paper petals around the pumpkin,from the middle to the top
-whip up some cute labels with favor stickers on toothpicks
-allow  everyone to add foam stickers.
Be proud of your creations.
Thanks for reading and don't forget to SHARE.